The city's largest no-kill shelter is looking for homes for some of its long-term residents, the adult dogs and cats that are often overlooked in favor of puppies and kittens. To help drum up interest in these worthy pals, PAWS Chicago is waiving adoption fees ($50–$100 for cats, $250 for dogs) for select animals from Sunday, January 17 through Saturday, January 23.
The weeklong virtual adoption event spotlights plenty of furry hopefuls, including 4-year-old shepherd mix Digby, 2-year-old American blue heeler Jensen, and 5-year-old domestic short hair Chilli. When you're browsing pets on the PAWS Chicago website, just look out for the golden banner that reads "Don't Forget Me" to find eligible animals.
Ready to bring one of these good boys or girls home? Be sure to review the organization's adoption requirements, take a compatibility quiz and fill out an adoption application. If you're not yet ready to adopt, consider fostering a dog or cat that could use a break from shelter life. You can (and should) read more about fostering to figure out if it's the right option for you.
Without further ado, let's take a look at some of the adorable adult dogs and cats who are looking for homes right now.
Domino: 2-year-old Labrador Retriever mix
Babette: 4-year-old domestic shorthair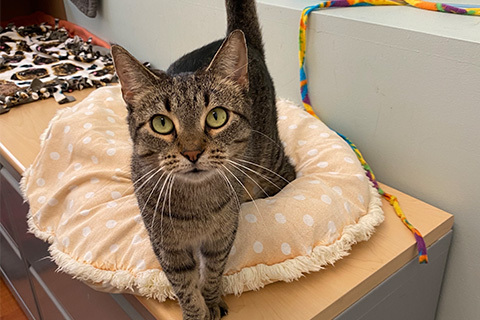 Ditto: 1-year-old hound mix
Tad: 1-year-old domestic shorthair
Digby: 4-year-old shepherd mix
Most popular on Time Out
– When will indoor dining resume in Chicago?
– The high-tech 'Immersive Van Gogh' exhibition is coming to Chicago
– Chicago's stay-at-home advisory has been extended through January 22
– Check out the Midwest's most lusted-after Airbnb properties
– The 50 best gangster movies of all time